1953 March 18th Wednesday
Another Bright day but wind got Strong, I think from South. It dried the wash in a hurry. Will put [wash] on line S.W. Corner [of] Yard and the Porch. He took out the water and drained some with Short hose to outside. He brought clothes in and I ironed some but went all in so got supper of Fish (Catfish, fried) and Fried Potatoes, was I all in but read some and played solitaire. I made a Robe of some Print I had cut out for some time and it was finished so washed it to-day. Will and Dan fed cattle hay and worked at Sickles and other Mower Stuff. Wales went up to Thomas's in eve until 11:55 p.m. just before midnight Wednesday night.
1953 March 19th Thursday. St. Joseph's Day
Patty Joe Brandon's Birthday
A South wind quite strong and a little hazy at times and clouds in North. Sun shone here. I am writing in diary and this a.m. got to 60 above, was 63 Tuesday but cooler yesterday and this day not so warm, 50 above near noon and I will put in what [it] is this p.m. About 60 above and cloudy, got real cloudy late p.m. but no moisture here. Will and Dan gave cattle 1 Stack alfalfa, went to North [of] Thomas's through Hills to Highway to Winner, got Lights, Tent at Andrea's Garage, Carter, License for Mercury Car at Winner Court House, Percolator at Winner Gas and Electric and it was all new but Body for we kept them here, wanted Heating unit and sent to Pittsburgh, Pennsylvania and they sent new parts but no Bill yet, also had Car greased and new Filter. Got groceries and Mower Repairs. Had dinner at 5 Spot South [of] Outlaw. Came home via McKee's and tomorrow they will go to help McKee's butcher a hog. I got 2 meals and sewed on an old coat to make a jacket for Rough wear. Betty never came up so I thought she and Calvin went with Men to Winner but no. Never saw anyone but strong South wind wasn't very pleasant here, was stronger on way from Winner.
1953 March 20th Friday
Partly cloudy at times. South wind Strong in p.m. Betty and Calvin came up and was too windy to get mail but Will and Dan brought it on way home in late p.m. They gave cattle Stack of alfalfa then ate dinner and took welder and McKee's Sausage Grinder in our Pick Up, also 2 Skinning Knives to McKee's by Old Arcoren Place South of Clarence Paulson's and they with Lew and Bus McKees butchered a hog for them to have part cured at Winner Ice Plant to-morrow and I guess the Family will go in, Lew, Bus, Judy, Betty and Patsy. I sewed on My Old Black White Flowers and bluish green foliage. I also got eats and played some solitaire. Dan has a cold in Head and feels tough and Will is getting it. I feel kind of bad but still can sew some.
1953 March 21st Saturday
A few clouds in a.m. and windy but p.m. was fair. Men gave cattle a Stack [of] hay in a.m. and Dan gave them one after dinner while Will took a nap. I also laid down awhile. Will has a bad cold in head, sneezes, nose runs and some cough but he helped Dan in a.m. and after nap went out to Garage and worked at Sickles. He got fuel and Eggs in eve. We had Milk Toast for a supper and I boiled a half Kettle of Gizzard that put in Freezer when Will & I dressed 40 Roosters a yr. ago last Fall, and Betty brought Milk, got Potatoes so she took some to fry for dinner. They left in their Pick Up for Ainsworth, Nebr. about 2:45 p.m. to visit their folks. I haven't been out, very little this winter so guess if weather gets nice I will go places. I got eats and played some solitaire and finished the Black dress with White Flowers and bluish green foliage and washed in Ivory Snow in eve and it dried O.K., was a very Jersey and had to pull Skirt to come down and Stretch a lot, but it is Brighter.
1953 March 22nd Sunday
2nd day of Spring. It started 4 p.m. March 20 and yesterday was 1st day. Some clouds in East but fair Rest of day and wind from Northwest. Will fed chickens, Milked cow, Swept floors and took a bath before noon. I washed dishes and am all in for Will took Cello Glass off of East Kitchen Door and I have so much air, my Head feels bum, had scarcely a little air all winter so Nose, Throat and Lungs are raw, but will heal now with plenty of air. Will laid down awhile in p.m. and about 4 p.m. We went in Mercury Car to Thomas's to tell them we need their pork out of Our Freezer so they will get it tomorrow. Joe Lolley's were there so Athel, Jimmie, Doris, Pat, Elva, Mary & Jerry came to Car, Will to Thomas, Joe and David in house. David fell on a Scraper Blade, cut his head, deep gash in right Side behind Ear to half way center [of] Head. They had him come out to Car and I saw the gash as it wasn't bandaged as Athel just cleaned it. We went North [of] Thomas's through Hills to Highway 18, down it past O'Kreek to Mosher, Kriz road then South to Nelson School, East to Furreys. Met Gerald, Anthia and Loretta a half Mile west [of] Furreys, and stopped to speak to them, they [are] going back home to Perebooms North of Gehlsen's. Mr. is Dead some time back at Kimball, S.D. where he got heart attack at a Service Station, taken to Hospital, died in a week, buried at Burke, S.D. Gerald and Family moved to Perebooms before they went to California on a vacation to see their son Bob who is in Service and since Father's Death is home on furlough. We visited awhile with Harry, Mary, Louise and Billie. Louise said that Nellie has infected place in each leg now and is still at People's home and getting better but they took her to Rosebud Hospital and no stay. Geo Klein is at Winner Hospital with Gall Stone Removal. Ben has Cancer of Prostate Gland. We got home at dark, ate a lunch, read & retired.
1953 March 23rd Monday
Bright windy N.W. wind quite strong so men fed cattle, had dinner. Bus & Lew came in Pick Up and they Butchered a 2 yr. old heifer for us in our Garage and hung it up there for the night. I made a banana cake and meat loaf for sandwiches, Coffee and Malts, also some chocolate syrup so they had lunch. Will, Dan, Bus & Lew, Athel, Doris, Pat & Jimmie just ate [a] bit. They came to see Bus about School Warrants for Pats (?) Board. Betty brought up Milk but all to their Place except Men. Usual Eats and card playing, solitaire for me.
1953 March 24th Tuesday
Bright, nice but cool, was very cool last night, around 20 above so Beef is O.K. Dan and Will gave cattle hay and after that cut 1 front quarter beef before dinner, wrapped and put in freezer. After dinner they cut other front quarter and 1 hind quarter and got all in freezer early before chore time. I boiled some neck meat for Mince Meat and got Eats and played solitaire some.
1953 March 25th Wednesday
Very cold night and Day bright but not so warm. Dan and Will gave cattle hay and cut last hind quarter before dinner and wrapped after dinner, put in freezer. Dan has a cold but He and Will managed to get some Pork Side Meat from Hog that was froze, ground in McKee's Electric grinder, also the beef for Hamburger. We mixed Pork with some of Hamburger and Men put all in boxes and in freezer. Betty, Dan and Calvin went to Whiting Store and got some groceries but not much mail. I cooked more Mince Meat, Neck and Mixed it with fruit & spices after men ground cooked meat and left it [to] stand for night. I cooked Raisins and Apples to put in it, also I washed all meat kettles, large pan and cleaned all things late p.m. but was all in, in general, so had to sit down. Got eats and read in eve, some solitaire. Dan & Betty had to fill some in culvert in Klein's field on way to Store and Men will fix later.
1953 March 26th Thursday
Warm bright Day. Men fed cattle and Will & I filled Mince Meat in boxes and put in freezer. I baked 1 pie and 1 blackberry late p.m.. Fried some Noodles but no good, got eats, laid down in p.m., played solitaire, looked at pieces that were upstairs in trunk and they will make another quilt top. Dan and Will put wooden culvert North [of] barn, filled it in, also to Road in Klein's Field and smoothed it out but no get mail. The Track by Wood Lake is mashed or settled down and Train no cross so not much mail these days. I played solitaire.
1953 March 27th Friday
Bright warm day. Men gave cattle hay and Will went to Valentine to get some iron posts and wire (?), groceries. Parts to make gates for corral. He was sick with over work and heart weakness but still he rushes to do things. Had dinner in town. Dan took Tractor (M) to McKee's to get welded, the Hitch was near broke. Guess Merchants are not so rushed so complain a lot about no Machinery being sold and this makes Will about all in. I got 2 Meals and sewed at quilt Blocks, finished 1 piece of 5 block for a cross, a quilt. Will got mail so I got package from South Carolina Mills of Percale, Nainsook, Pillow Slips, Cheesecloth & Handkerchiefs.
1953 March 28th Saturday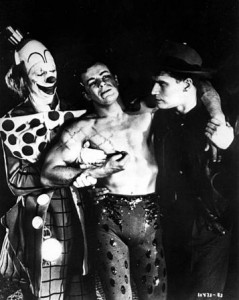 Very Strong South wind, bright nice until late p.m. got a little hazy. We have another calf out in herd and one in barn is slow eating or taking milk from cow but takes from bottle. Men gave cattle hay and husked the corn that was in wagon and put in Pick Up and finished in p.m. Will gave us Malts and Calvin & Betty got Mail, first Wales went to Mission, Star Theater to The Greatest Show on Earth this evening. Will looked at cows, fed calf in barn and it sucked cow some. Wm & Billie in town for Mrs. Frank Abbott's 75 Birthday Party this eve. Eats and washed clothes. Will hung [them] out, brought in, I ironed in eve and made another 5 blocks for quilt.
1953 March 29th Sunday
Beautiful forenoon but p.m. hazy not exactly cloudy here but North Edges. Men gave cattle hay and Will took junk to junk hole west [of] here and looked [for] cow to calf North of here in field. Dan put Lard in basement for Betty fried it last few days, they more than did jobs around their Place. Will went to McKee's via west road to get welder to make 2 gates South [of] Round Corral to N.E. [of] Wales Yard. This opening wide enough to drive hay sled through. I played solitaire in p.m. and got to 73 above so was sick, had to open North Door and sit there until Will came home. He looked at cows, turned cow to calf in box Stall. We had a lunch and went on highway to Tates to see Ray, but Mr. & Mrs. took him to Sioux Falls Hospital to leave for 2 months to have brace made for his afflicted Limb. Mr. & Mrs. got back just an hour before we got there but finished choring, visited with Geo. Klein out by calf pen East [of] house awhile, that is J.H. and Will. They came in but Klein went home first. Mrs. gave him a letter from Cora Kositzky of Winner, now Nurse at this Hospital. We had a lunch [at] home at 9:30 p.m. Thomas, Athel, Doris, David & Jimmie were at Wales, also Stanley, Pearl, Gary & Curly & Illeen Whiting. We went to bed before 10 p.m. as was tired.
1953 March 30th Monday
Bright nice day and not so hot as yesterday. Men fed cattle and worked at Gates for a Double place by Water Tank. I got eats. Dan went for mail but none as Track washed out at Wood Lake, Brown Co., S.D. I sewed on quilt blocks.
1953 March 31st Tuesday
Bright, warm day. Men gave cattle hay and worked at gates. Stanley Whiting came this p.m. to say he would Dehorn his yearlings tomorrow p.m. Doris Whiting came with Jada Anisphar (?) of west of Whiting Store who collected for Red Cross. Betty and Calvin came up in Pick Up this p.m.