November 5, 1925, Thursday
Bright, thawing day. Will went to cornfield and it was so wet. He husked 4 rows and came home early after dinner. Ed and Leo came on running gears to get his hay-rack, and in p.m. he went and got a horse, so they skinned it for the hogs, and went home late in evening. Louise went to school and is all over her cold now, but I have a sore throat, did only ordinary work. Dick Schmidt went to O'Kreek and got our mail and groceries.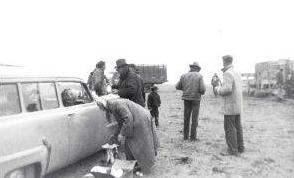 Coffee break while loading cattle sometime in the 1950s. Whitchers used to sell their calves to a feeder in Illinois. The calves would be loaded on trucks, hauled to Valentine, NE, and then loaded on the railroad. The feeder said that it took the calves 90 days after the trip to get to the condition they were when they left the ranch.
Bill Whitcher is on the left with a cup of coffee; Stanley Whiting is wearing a hat with his back to the camera.