I apologize for the scattered nature of Hattie's posts this summer, but I have a good excuse: I have finished the process of publishing a children's historical fiction book, Oscar's Gift: Planting Words with Oscar Micheaux, available now as an ebook (for Kindle, Nook, and other e-readers) and soon to be published in paperback. Details are below, if anyone is interested. This project has been more than a couple of years in the making, and it's one that has brought me much joy and knowledge. Although it is a middle grade book, I wrote it with an ear for what adults might enjoy as well.
Oscar's Gift: Planting Words with Oscar Micheaux
Fiction for Young Historians Ages 8-12 (and up)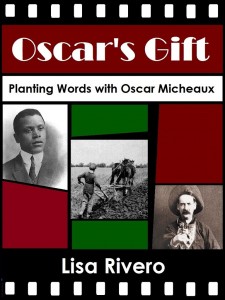 by Lisa Rivero
Book Description

The year is 1904 on the Rosebud Indian Reservation, and eleven-year-old Tomas, a son of Swedish immigrants, thinks that life is a game of chance. Now you see it. Now you don't. His father. School. Dreams for the future. It doesn't matter how hard he tries or how much he hopes. In the end, everything he loves can disappear with the delivery of a telegram.
Then one hot day, on a dusty, crowded street in Bonesteel, South Dakota, he sees a tall, dark, city-slicker of a man as they both are trying their luck in a land lottery. Tomas does not know that he has just met someone who will one day write novels about his homesteading life on the Great Plains and be known as America's first African-American feature film maker. Oscar will also become his friend and mentor.
Could it be that Tomas's luck is changing?
Oscar's Gift uses a classic style and, in the digital version, illustrative historical photographs to bring the rich diversity of history to modern young readers. The book includes ideas for activities and discussion questions.
Nook Version
Available on Smashwords
Paperback Coming in September, 2011